Renal Arterial Doppler Study
Renal Artery Stenosis (RAS) is when the arteries supplying blood to the kidneys narrow down. The renal arteries bring oxygen-rich blood to your kidneys, helping them eliminate waste and excess fluid from your body.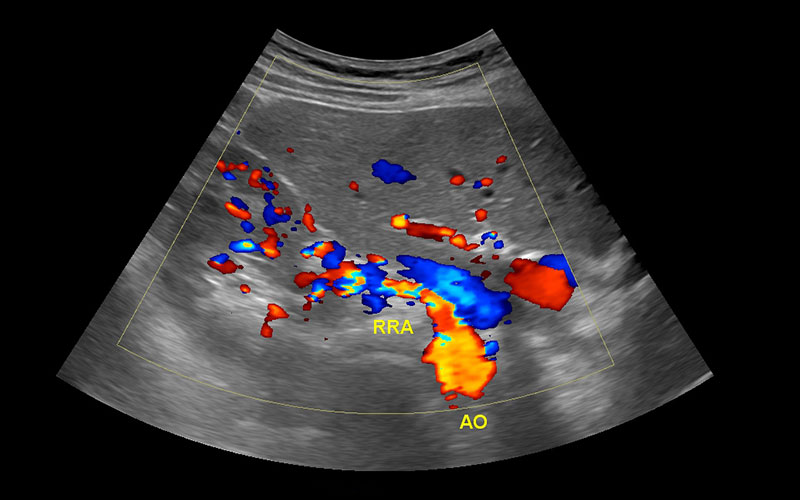 Symptoms
RAS-related signs and symptoms include:
Persisting high blood pressure (hypertension) despite taking timely medicines to reduce hypertension.
Decreased or abnormal kidney function.
Fluid retention in the body.
Edema (swelling) in your ankles and feet in particular.
Increased protein levels in the urine.
Treatment-resistant heart failure.
Bruit sound in your blood vessels.
Visit your doctor if you experience any unusual symptoms.
Diagnosis:
Your doctor can start with the following steps to diagnose renal artery stenosis:
A physical examination to detect bruit sounds that indicate the narrowing of your kidney artery using a stethoscope.
A review of medical history.
Urine and blood analysis to assess how your kidney is functioning.
Blood and urine tests to assess the hormone levels that influence blood pressure.
Causes:
Causes of RAS include:
A build-up of fatty substances and cholesterol.
A less common cause- fibromuscular dysplasia.
Diagnosis
Imaging tests to diagnose renal artery stenosis include:
Doppler Ultrasound: The test uses high-frequency sound waves to enable your doctor to view the arteries and kidneys, examine their function, and detect the presence and severity of blockages in the blood vessels.
CT Scan: Here, an X-ray machine connected to a computer creates detailed cross-sectional images of the renal arteries. A dye injection can be added to illustrate the blood flow.
Magnetic Resonance Angiography (MRA): MRA creates comprehensive 3D images of the renal arteries and kidneys through radio waves and strong magnetic fields. A dye injection in the arteries can illustrate the blood vessels.
Renal Arteriography: Through this kind of X-ray procedure, your doctor is able to detect the blockage in the renal arteries and occasionally unblock the narrowed section with a balloon or stent. Before the procedure, your doctor injects a dye into the renal arteries through a catheter to clearly show the arteries and blood flow.
Treatment
Treatment for RAS can include lifestyle changes, medication, a procedure to restore blood flow to the kidneys, or a combination of treatments. These treatment methods include:
Lifestyle Changes:
Maintain a proper/healthy weight
Avoid salt
Quit smoking
Minimize stress
Moderate alcohol consumption
Exercise regularly
Common Medications:
Angiotensin-converting enzyme (ACE) inhibitors and angiotensin II receptor blockers (ARBs)
Diuretics, also known as water tablets
Beta-blockers and alpha-beta-blockers
Calcium channel blockers:
Your doctor can also prescribe aspirin and a cholesterol-lowering medicine in the case of atherosclerosis.
Procedures
A procedure to restore blood flow through the renal artery and increase blood flow to the kidney may be prescribed for some individuals.
Renal Angioplasty and Stenting: Keeps the vessel walls open and allows better blood flow.
Bypass Renal Artery Surgery: Physicians graft a temporary blood vessel to the renal artery during a bypass operation. This will establish a new path for blood to enter the kidneys in case the angioplasty is unsuccessful.
Preparing for treatment
You may visit your general doctor, or you may be referred to a nephrologist or cardiologist.
If you need an affordable treatment of renal artery stenosis, contact us at North Atlanta Vascular and Vein Center. We provide high-quality treatments for vein diseases.
FAQs
What can you do?
To prepare for treatment, you can:
Write down all the symptoms
List all the medications/supplements you take
Share key medical information with your doctor
Ask a family member or friend to accompany you
Prepare a list of questions to ask
What to expect from your doctor?
Your doctor can ask the following questions:
When did you begin to feel the signs symptoms?
Are you a current or former smoker?
Does something improve or worsen the symptoms?
Have you measured your kidney function?
Family history of high blood pressure or kidney failure